Carp anglers fishing in all seasons know the importance of having a down that is warm enough to sleep properly when the thermometer drops below the 0 ° C mark!
With Carp Design range, you're sure to make the right choice if you're looking for a true 5-season sleeping bag.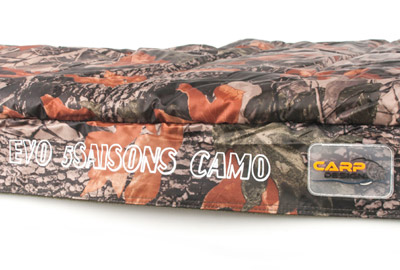 Benefiting from a thick filling made up of Hollow Fiber Plus hollow fibers with silicone treatment to keep the shape of the down, it will allow you to face serenely the most difficult conditions.
It has an integrated pillow, has 2 anti-cold flaps to limit heat loss at the shoulders and two oversized zippers allow a quick release on both sides, whatever the direction in which is positioned your bed chair.
To ensure a perfect fit on your bed chair, it has two pockets to attach to the ends of your bed chair and an adjustable central strap.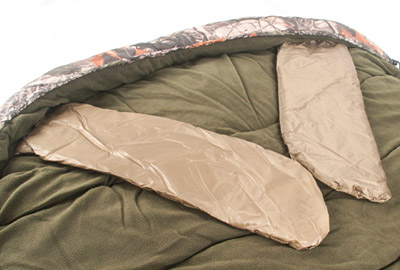 Thermal amplitude: + 15 ° C / -15 ° C
Exclusive camouflage pattern
Hollow Fiber Plus Hollow Fibers
Anti-cold flaps
Double over-sized zipper
Integrated pillow
Hood with drawstring to hold the pillow in place
Central fixation strap
End fastening pockets
Comes in a sturdy carrying bag
Overall dimensions: 60cm x Ø40cm
Dimensions : 200cm x 100cm – Weight : 5.3kg