Buy this product on Chronocarp
Carp Design Easy Weight Tripod
The moment of weighing is never easy because after a hard fight, the arms are often paralyzed and it is not always obvious to accurately weigh a fish.
In order to remedy this problem but also to avoid damaging the fish, we designed the Easy Weight, a tripod that is simple, space-saving but extremely effective.
It has 3 adjustable feet in length and a head with a hook that will allow you to hang your scale.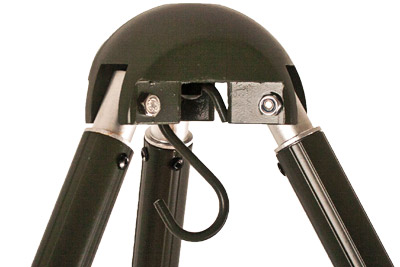 Made of aluminum
Dark green color
Delivered with a transport bag
Adjustable feet length from 116cm to 212cm
Size: 18cm x 133cm
Weight: 1.870kg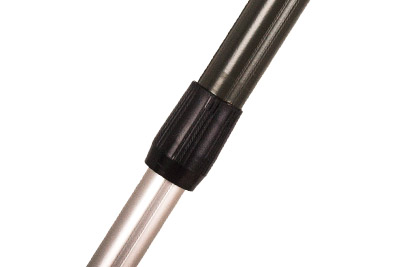 Adjustable feet length from 116cm to 212cm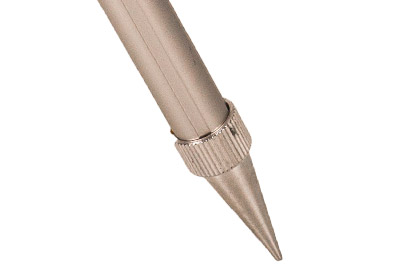 Made of aluminium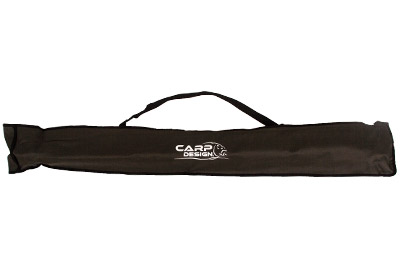 Supplied with its transport bag
Carp Design 42 " 2-parts handle Deluxe Landing Net
An essential element for keeping our favorite fish dry, the net must be light, practical, reliable and robust.
Equipped with 42 " (107cm) arms and a high modulus carbon handle, this model is likely to make the high-end landing nets currently available on the market pale!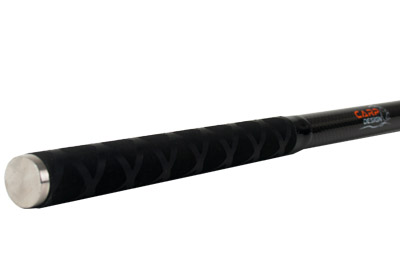 Its ultra-thin 180cm (19mm heel diameter) handle made of two elements offers a small footprint and makes it easier to fish for fish if you fight from a boat.
Its dark green net has large mesh to reduce the water resistance when putting the landing net, while being thin enough not to damage the fish.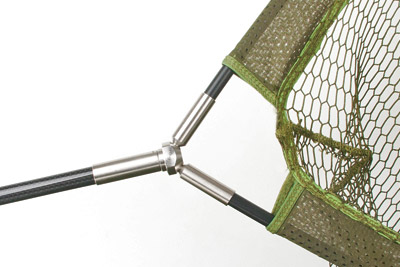 The very thin yet robust spreader block is machined from a premium piece of stainless steel while the high modulus carbon arms have a stainless steel reinforcement to be securely held in the head block and thus guarantee increased robustness.
The set offers perfect balance, high rigidity and high tensile strength.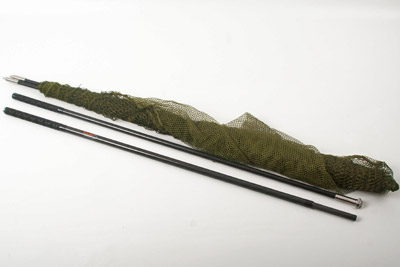 2-part sleeve
42 "arms (107cm)
Robust handle and arms in high modulus carbon
Machined stainless steel head
Fish-friendly net
Total length of the handle: 180cm
Stainless steel reinforcement at the base of arms
Ultra light: 0.790Kg
"Carbon Finish" finish
Comes in a storage bag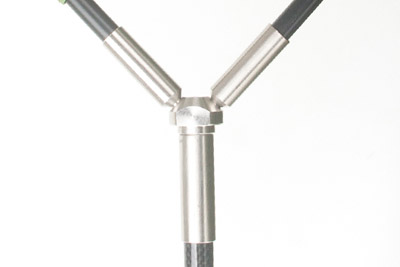 Machined stainless steel head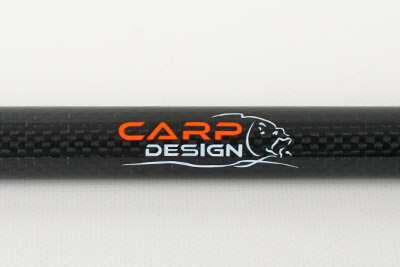 Robust handle and arms in high modulus carbon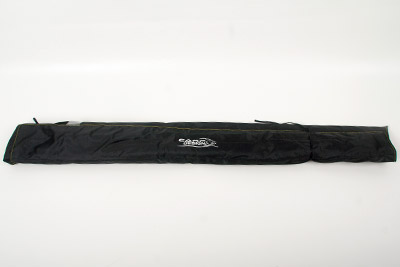 Comes in a storage bag
CCarp Edge Unhooking Mat
Thanks to its edges and its thick padding, the Edge unhooking mat guarantees optimal protection.
Despite its size it folds and stores easily so you do not clutter during transport or storage and its small pocket will allow you to store a small scale or antiseptic.
It has a full flap with Velcro fastener that will allow you to secure and calm the fish if you are alone and you must quickly move away from the mattress to find your scale or camera.
It is really an unhooking mat designed with the idea of ​​ensuring maximum safety for fish.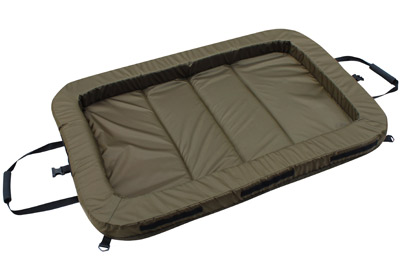 Very thick foam padding
210D nylon with PVC coating
Pocket for peson or antiseptic
Green pattern
High ledges to prevent fish from slipping
Its bowl shape helps keep water inside
Full flap with Velcro fastener
Carry handles
Angle attachment points
Overall dimensions : 55cm x 70cm x 16cm
Dimensions : 110cm x 70cm x 8cm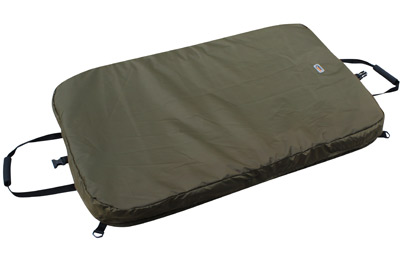 Foldable for easy storage and transport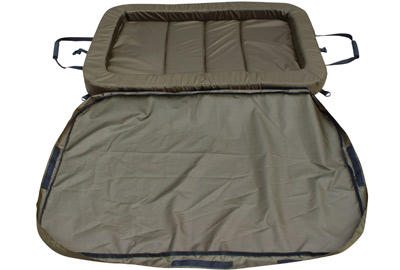 Pocket for weight scale or antiseptic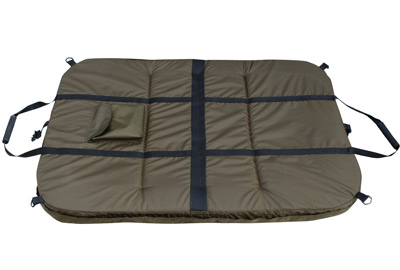 Very thick foam padding and carry handles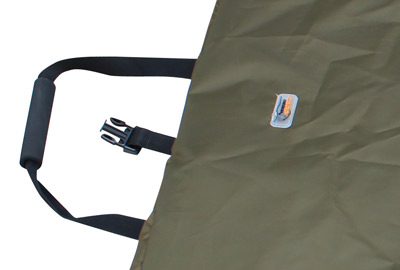 Full flap with Velcro fastener
Carp Design Green Line Floating Weigh Sling
The green line floating weigh sling combines the advantages of a weigh bag with those of a traditional storage bag.
Made from a soft nylon and a "Fish Friendly" mesh of dark color that filters the water and maximizes the tranquility of your fish, it is equipped with floats along the length that allows it to maintain the fish in surface during his captivity.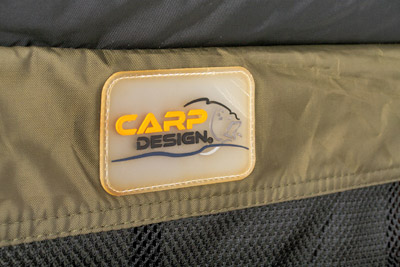 The Green Line weighing bag has a large zipper along the entire length of the bag to ensure easy fish bagging.
It is designed in such a way that water exchange takes place between the bag and the outside to allow optimal oxygenation of the fish, especially in hot weather.
To make it easier for you to find the bag during the night, it is a function of reflective strips that allows you to locate it with the beam of a lamp.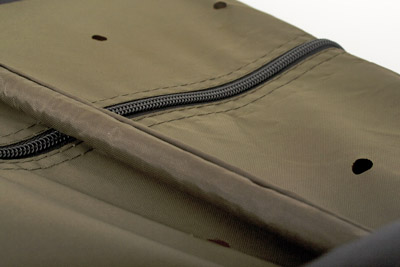 Double handles at each part for secure handling
Seams on all pressure points
Drain mesh allows fast evacuation of water for accurate weighing
3m of rope with float
No fixing screws for spades
Locking system of the zipper
System stiffeners to keep the bag well apart
Presence of reflective strips on the floats
Weighing straps with stainless steel rings
Delivered in a transport bag
Dimension : 123cm x 45cm x 30cm