Buy this product on Chronocarp
Carp Design Slim Fighter Evo 50mm 12′ 3.5lbs Full Cork Rod
Here is a rod that has not finished talking about her ! Indeed, this is the first time that a Full Cork rod has had this level of equipment at such a competitive price !
Made from a 24T carbon, its ultra-thin matte black blank, highlighted with black ligatures and gold edging, as well as its abridged Full Cork handle with a carbon insert in front of the reel seat, will seduce rod lovers from the first glance.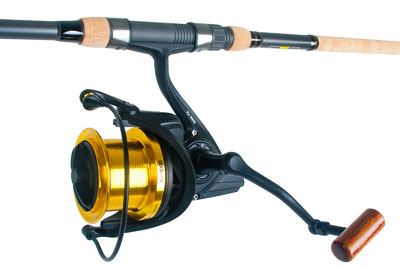 With excellent casting abilities, the Slim Fighter provides a comfort of use quite remarkable. In order to optimize its performance and balance, it is equipped with BTDG Slim lightened rings and rare thing for a rod of such a quality/price ratio, it has a Fuji reel seat!
Its progressive semi-parabolic action guarantees a quick return from the blank when casting while maintaining a superb action on fish of all sizes.
The Slim Fighter is a powerful rod that combines nervousness, precision and strength, all at an incredible value for money.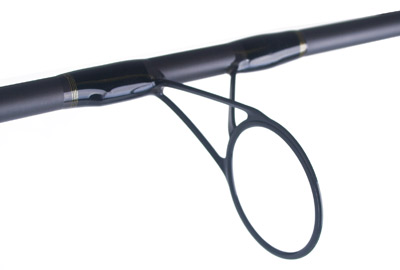 High modulus 24T carbon blank
Black matte color blank
Black ligatures with gold Edging
6 lightweight BTDG Slim double legged rings
Butt ring 50mm
Anti-frap head ring
Fuji reel seat
Full Cork abbreviated handle
Carbon insert between handle and reel seat
Finishing butt cap
Finishing ring on the reel seat
Integrated line clip
Comes in 210D Oxford cloth cover
Weight: 360g
Overall dimensions: 190cm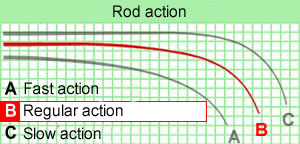 Technical Informations
Length
Sections
Power
Rings
12′ (360cm)
2
3.5lbs
BTDG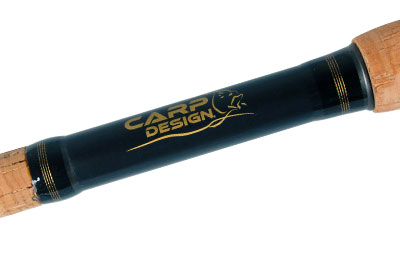 Carbon insert between handle and reel seat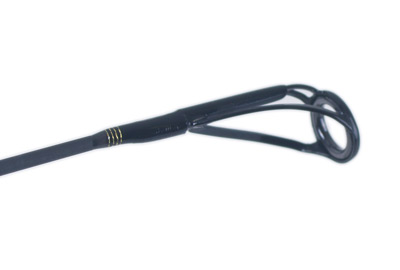 Anti-tangle head ring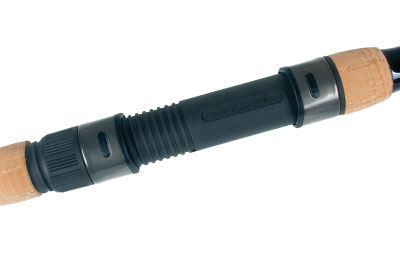 Finishing ring on the reel seat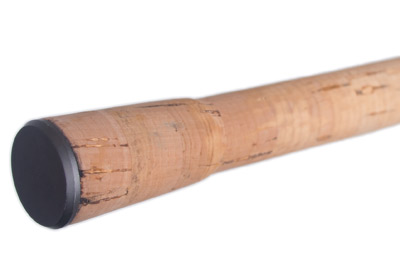 Full Cork shortened handle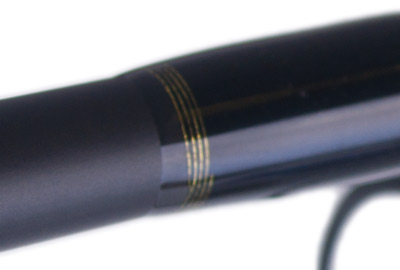 Black Ligatures with Gold Edging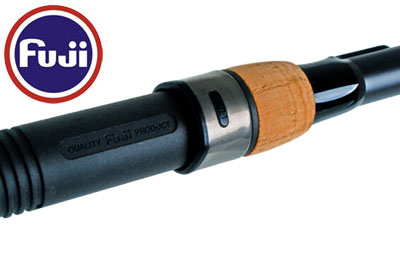 Fuji reel seat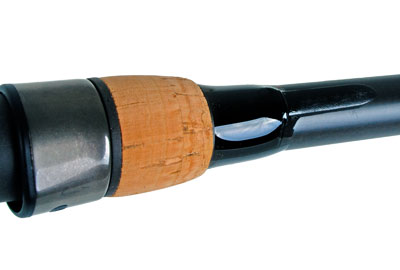 Line clip
Carp Design KF9000 Gold Reel
Since its launch a few years ago, the Carp Design reel series has continued to impress with its quality/price/performance ratio! In response to the trend for lightweight Long Cast reels, we are proud to present the latest addition to the Carp Design range, the KF9000.
The KF9000 is a top of the range model, designed to meet the expectations of demanding carp anglers who are looking for a high performance reel.
Weighing in at just 540g, this reel is likely to outshine some of the more prestigious models! Thanks to its ultra-light computer-balanced frame, it offers a perfect balance to rods of any length. Behind its sober look (black frame, exotic wood handle, golden spool), the KF9000 is a reliable and robust reel that has already proven itself for many years.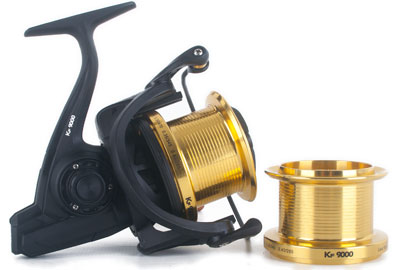 The KF9000 is equipped with the ultra-slow double oscillation "Worm Shaft System", which allows you to store your line perfectly and gain the few metres that make the difference when fishing at long distance.
It has 7+1 stainless steel ball bearings, an aluminium spool (+ a spare gold aluminium spool), an infinite anti-reverse and the new AVS anti-vibration system.
In addition to having a micrometric front drag control that allows you to switch from a free position drag to a fighting drag very quickly and precisely, we have added felt discs between the brake washers to increase its power… strong fishing enthusiasts will appreciate it!
The ergonomic handle mounted on the machined aluminium crank offers a comfortable grip and the extra spool will satisfy carp anglers who need to be able to switch from a nylon line body to a braided line body for example.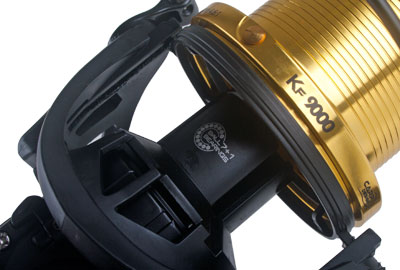 7 + 1 stainless steel ball bearings
Gold forged aluminum main spool
Extra spool made of gold forged aluminum
Stainless steel pins, screws and washer
Stainless steel pins, screws and washers (saltwater compatible)
AVS anti-vibration system
Reinforced control wheel
Ultra-light, high-strength graphite body
Micrometric front brake "Drag Control"
Drag power: 16kg !!!
Anti-twist and anti-corrosion roller
Infinite Anti return
Ambidextrous handle
Winding with crossed turns
Double oscillation "Worm Shaft System"
Folding crank in machined aluminum
Ergonomic wood handle
Line clip
Technical Information
Bearings
Ratio
TMV
Capacity
Spool add.
Weight
7+1
4.6:1
102cm
470m /0.30mm345m / 0.35mm
1
540g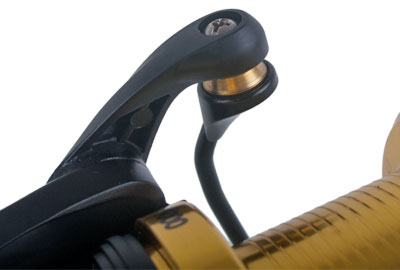 Anti-twist and anti-corrosion roller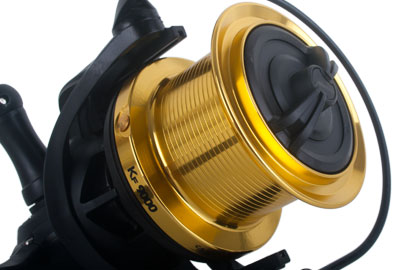 Double oscillation "Worm Shaft System"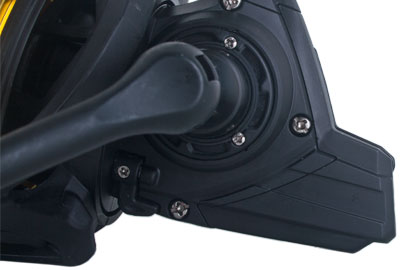 Ultra-light, high-strength graphite body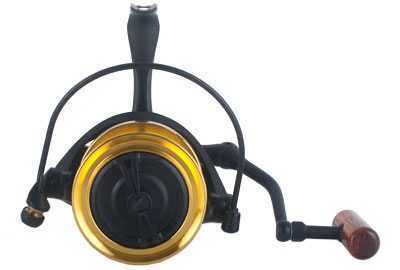 Micrometric front brake "Drag Control"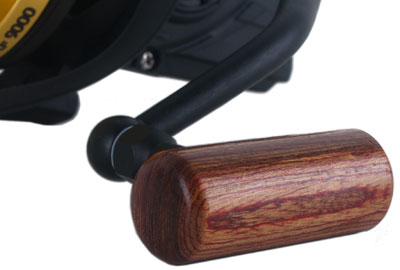 Ergonomic wood handle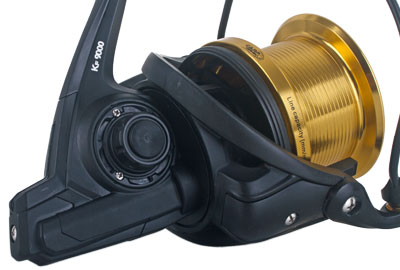 Stainless steel pins, screws and washers (saltwater compatible)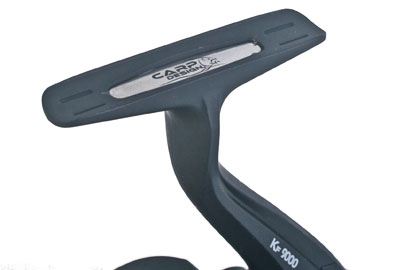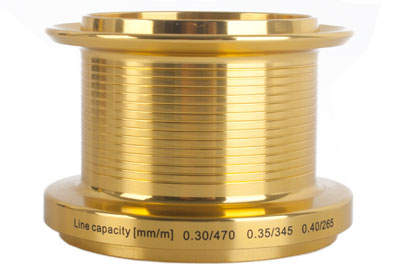 Extra spool made of gold forged aluminum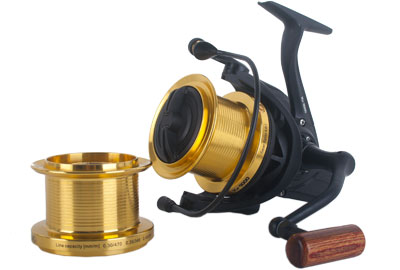 Folding crank in machined aluminum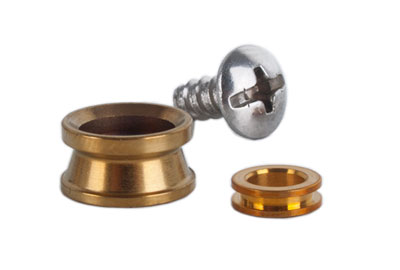 Spare roller