Designed with the same reliability and durability concerns as our now famous Freedom set, Fusion detectors offer a high level of functionality due to their quality/price ratio.
Under their compact design, they contain state-of-the-art electronics that are second to none compared to other sensor models on the market!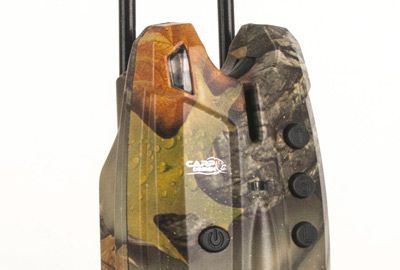 Equipped with adjustable multicolor LEDs (7 colors to choose from) that will allow you to configure your battery to your liking, they have the traditional volume, tone and sensitivity settings.
They benefit from an integrated transmitter that will guarantee a perfect connection with the control unit within a radius of up to 150m depending on your environment.
Night fishing enthusiasts will be delighted by the presence of night watches (low power diode) and a socket for light accessories.
The detector (and receiver) frame is made of high-strength ABS material with special reinforcement at the screw thread to ensure increased resistance to weathering and the elements you may encounter at the water's edge.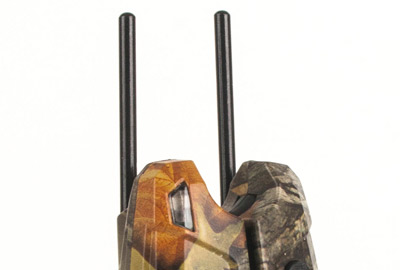 Ultra bright, long-lasting LEDs
Adjustable multicolor LEDs – 7 colors to choose from: green, yellow, red, blue, purple and white
Compact design
Exclusive camouflage finish
4 sensitivity levels
5 volume levels (including silence function)
4 tone levels
15-second LED delay time on sensors and receiver
Low battery warning on detector and receiver
150m range in open area (range varies according to the environment)
Simple operation and easy re-setting
Illuminated accessory socket
Memory function on detectors and receiver (keeps settings)
Designed to withstand the elements
Frame made of high-strength ABS materials with special reinforcement at the screw thread
Aluminium screw thread
Vibrator function on the receiver
Presence of a night watch on the detectors
Ergonomic snap-on adjustment buttons
The detectors operate with one 9V battery (batteries not included) and the receiver with 3 AAA 1.5V batteries (batteries not included)
Supplied in a shock protection box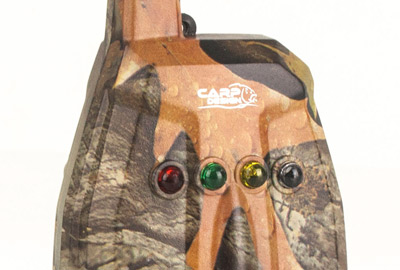 Ultra bright, long-lasting LEDs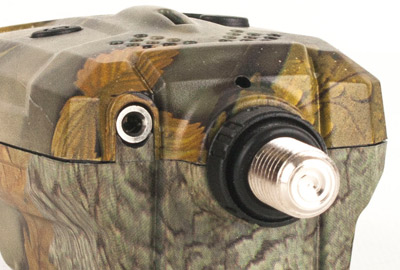 Illuminated accessory socket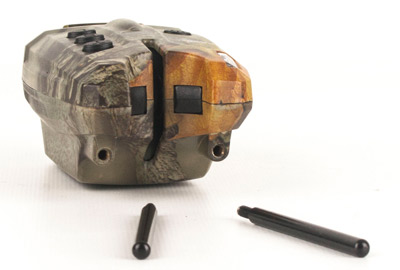 Integrated removable Snag Bar system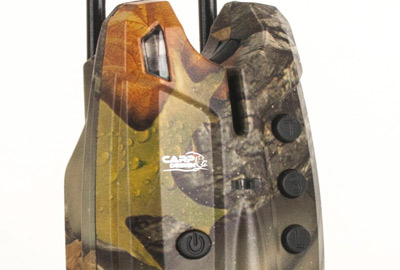 Adjustable volume and tone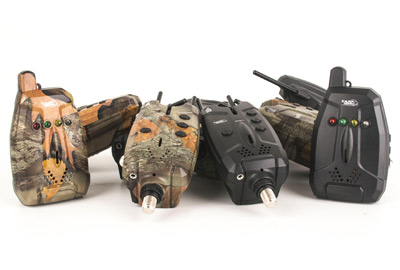 Available in 2 colours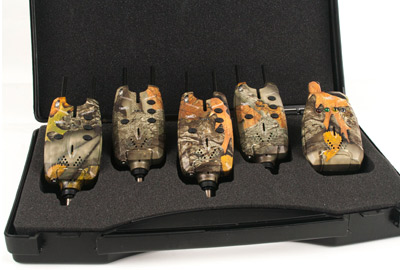 Carp Design 4 Fusion Camo Set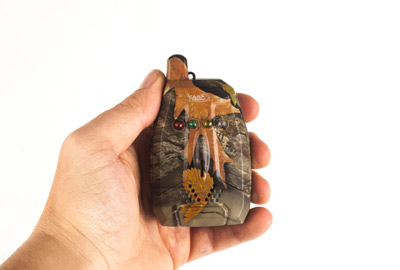 150m range in open area (range varies according to the environment)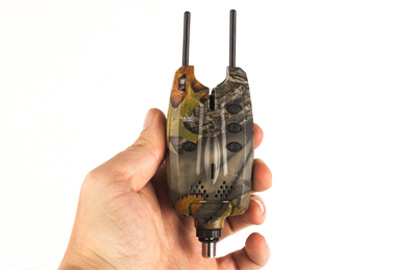 Adjustable multicolor LEDs – 7 colors to choose from: green, yellow, red, blue, purple and white