This bait boat is available with or without echo sounder.
With its experience in the field of bait boats and in response to a large demand from carp anglers all over Europe for a compact bait boat, Carp Design is proud to unveil its new model, the V50.
This sleek looking boat is a true technological gem. The V50 is a compact, ultra functional bait boat that is ideal for fast fishing and will allow you to place your rigs with great precision day or night.
The new technologies used in its design will quickly make it a reference in the market. It is equipped with two ultra quiet high torque motors combined with a lithium battery which give it a 2h30 autonomy!
The presence of a speed variator allows smooth navigation and a continuous speed change offering a maximum speed of 90m/min and its 2.4GHz anti-interference remote control offers a range of 400m.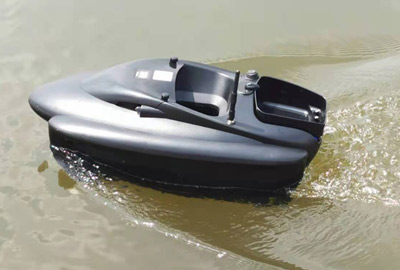 The top of the boat is equipped with a digital battery indicator to allow you to easily check the battery status before removing your rigs. For night time or low light applications, the V50 is equipped with powerful front and rear lights to ensure you don't lose visual contact with the boat.
Made from high quality ABS plastic, the catamaran style hull will give you added strength to cope with the worst weather conditions (tested to class 5-6 on the Beaufort scale).
The V50 has two independent bait traps with a maximum capacity of 1.5kg controlled by electromagnets. The centre hatch is designed to hold your bait, while the rear hatch is designed to hold your rig.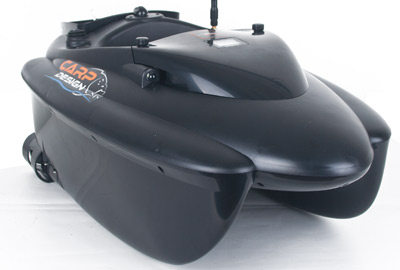 This model is equipped with the GODIO echo sounder which will allow you an accurate reading of the background and underwater elements in color on your smartphone or tablet (not provided) thanks to the dedicated free application (Android and IOS).
The range of the WI-FI signal of the echo sounder transmitter is 300m and the maximum depth of use is 73m (minimum 60cm).
The complete GODIO echo sounder will show you the bottom contour, the surface temperature, the visualization of the fish as well as their depth. It has 100 levels of sensitivity adjustment, automatic and manual selection of the depth scale as well as automatic and manual background zoom tracking.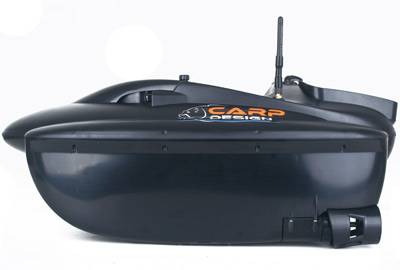 Catamaran design
High quality ABS engineering plastic hull
2.4GHz interference-free remote control
2 hatches (central + rear tilting) with individual control
Capacity: 1.5kg
Range: 400m (variable depending on conditions)
Battery life: up to 2.5h at full power
Ultra quiet, high torque motors
Speed 90m/min
12V/7.8Ah Lithium battery (included)
Battery charger
Integrated GODIO echo sounder
Echo sounder signal range: 300m
Minimum/maximum depth of use: 0.60m/73m
Free Sounder App (Android and IOS)
Dimensions: 56cm x 32cm x 24cm – Net weight (excluding battery): 4.5kg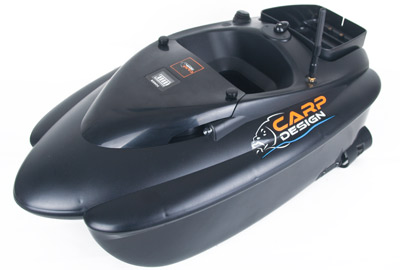 High-quality ABS technical plastic shell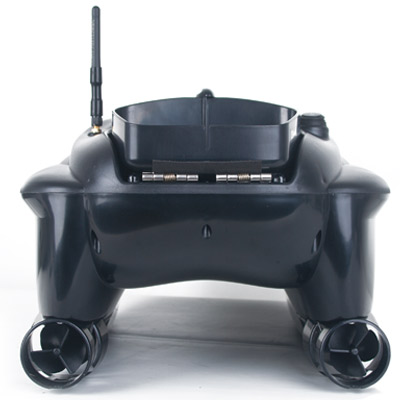 Catamaran design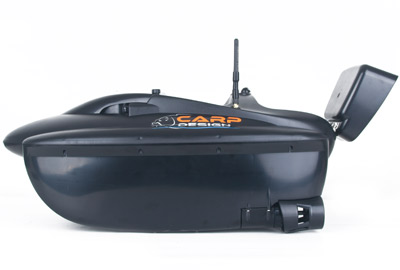 Open hatch profile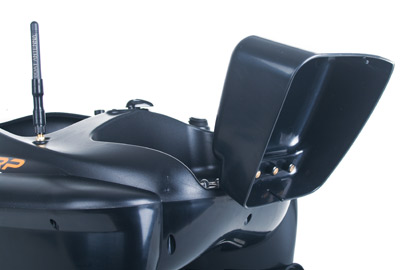 Outrigger hatch (capacity: about 500g)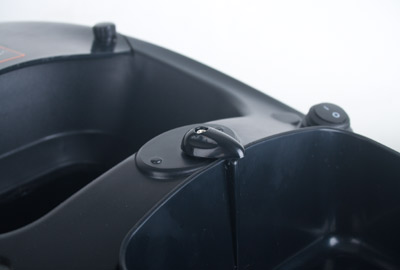 Detail of the opening mechanism of the trap door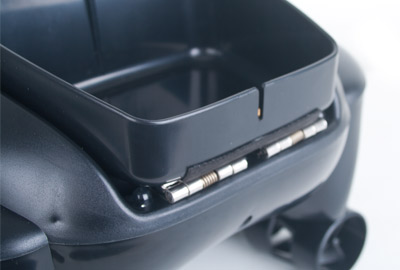 Groove for the line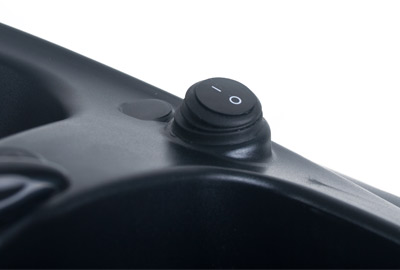 Detail of ON/OFF button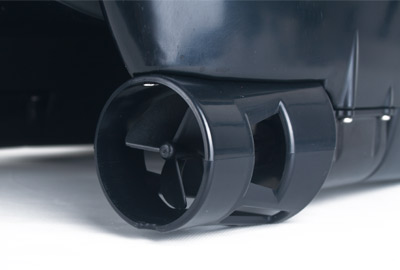 Ultra quiet high torque motors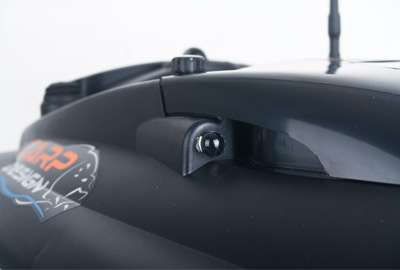 High visibility front lighting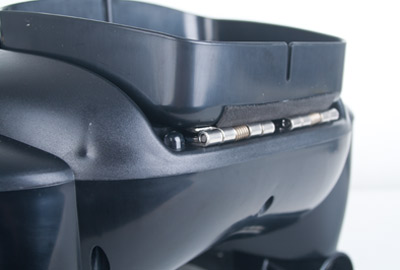 High visibility rear lighting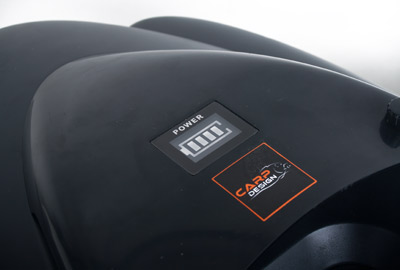 Digital battery gauge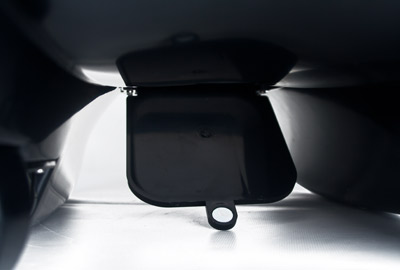 Central trap door with magnetic release (capacity: approx. 1kg)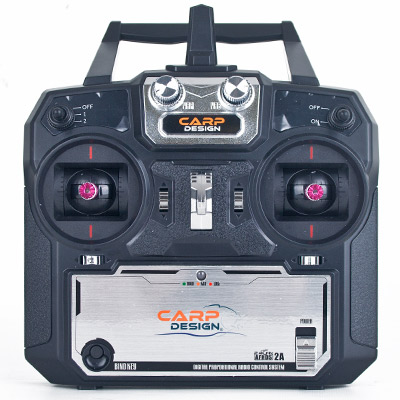 2.4GHz anti-interference remote control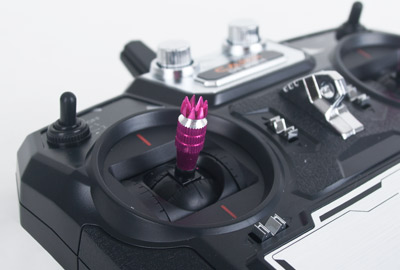 Sensitive remote control joystick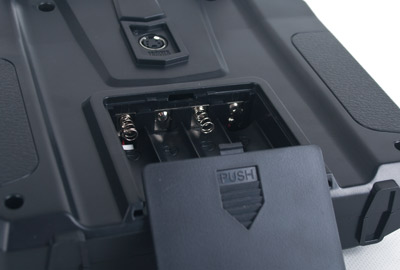 Remote control power supply with 4 AA batteries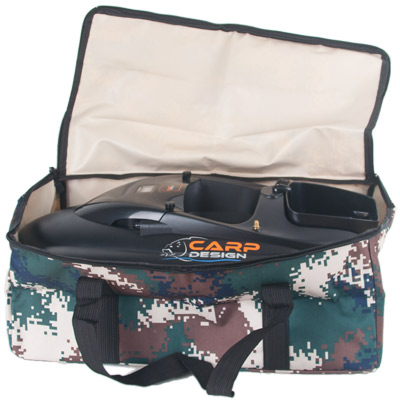 Comes with a Camou carrying bag with PVC lining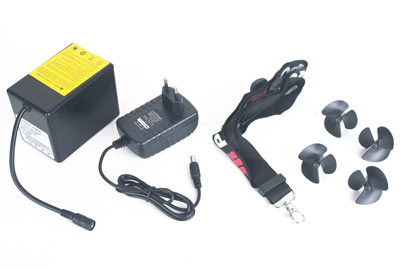 Supplied with battery, charger, remote control cord and 2 extra sets of propellers
Click here to download the user manual
Click here to download the echosounder manual